Air Duct Cleaning
Electrostatic Air Filters
Steamworks recommends that once you have invested in cleaning your air duct system, you replace your air filter with a premium quality electrostatic air filter.

These highly effective, WASHABLE filters collect 94% of the POLLUTANTS THAT PASS THROUGH IT. Compared this to a standard throw away filter which only collects 15% of pollutants.

These permanent filters use "FREE" static electricity to attract and collect the pollutants in the system as they flow through the polyester and polypropelene screens - creating a negative charge and trapping the contaminants.
These electrostatic air filters are:
-Washable

-Re-usable (better for the environment)

-Traps 94% of pollutants

-Lifetime warrantee

-Anti-microbial filter layer

-Reasonably priced

-Costs nothing to use (uses FREE static Electricity)
Ask your Steamworks Representative for available sizes upon booking your service.
Home Air Duct Cleaning Benefits
We can show you the visible difference air duct cleaning makes!
-Steamworks uses powerful negative air machines with truck-like suction which are brought into the home
-No huge hoses running through your home, potentially damaging your walls and furniture.
-Our system allows the heated air to stay in the home during the winter. Cooler air conditioned air remains in the home during the summer.
-Our machines are equipped with 3 Levels of air filtration.
-We employ the use of cameras and monitors to inspect , clean and post inspect our work. If you want to see the difference our air duct cleaning service makes, simply request a copy of the service video be emailed to you after the job has been completed.
Breathe Easy with Steamworks.
Improve the quality of the air you breathe in your home.
Over the years, airborne pollutants such as dust, dirt, pollen, pet dander and other contaminants can accumulate in the system affecting the quality of the air in your home.
These contaminants circulate in your home and the air you breathe. It can also affect the efficiency of your heating and cooling systems, leading to higher energy consumption and costs.
By simply cleaning out the duct system and furnace every two to three years, you can increase the efficiency of your heating and cooling systems and improve the quality of the air you breathe.
People who suffer from ailments such as allergies, asthma, weakened immune systems and other respiratory problems would benefit from improved indoor air quality.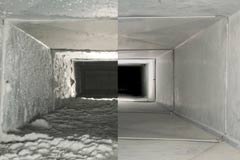 When should you clean your ducts?
If you notice that dust covers the floors and furniture within a couple of days of vacuuming, you may have dust lines on your vent covers or clumps of debris in your ductwork. It is time to clean your system.
Steamworks recommends that you clean the entire air duct system in you home every two to three years. More frequent cleaning is recommended if you have pets or respiratory problems.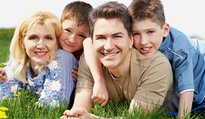 Why choose Steamworks to clean your air ducts?

Steamworks employs the push pull method of air duct cleaning. Our powerful negative-air vacuum is connected to the main duct lines in your home.
Your Steamworks technician then uses various brushes and air tools to push away any debris down into the containment system. We visually inspect the air ducts and repeat the process until the air ducts are thoroughly cleaned.
Furnace Cleaning

Steamworks cleans furnaces to help them work more efficiently and last longer.
Call us for details.

Disinfectant - Fogging

Steamworks offers a disinfectant fogging after air duct cleaning service. Offering safer alternatives also applies to your air ducts and ventilation system .
Once your air ducts have been thoroughly cleaned by Steamworks, we recommend fogging the system with Benefect. Benefect™ is the first and only 100% natural disinfectant and has been awarded the Green Seal. To earn the Green Seal a product must meet the Green Seal environmental standard for the category as demonstrated by rigorous evaluation and testing.
Benefect is made from biodegradable, renewable, botanically pure plant extracts with pleasant aromatherapeutic vapours. No artificial dyes or fragrances are added. It is scientifically proven to kill 99.99% of all germs… naturally. Protect your home with our after cleaning disinfectant service.